---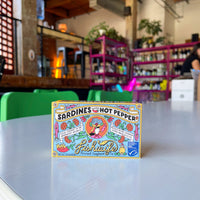 Fishwife Sardines with Hot Peppers
Enjoy these sardines atop a fresh baguette or straight from the tin using our newly crafted Tinned Fish Tongs 🥢. These elegant, stainless steel tongs were born to pluck fish from a tin.
Pair a Sardine Trio with our Tinned Fish Tongs for an elevated eating experience and SAVE 10%!
✨ Responsibly wild-caught off the coast of Cornwall, England in the only MSC-certified sustainable sardine fishery in Europe.
✨  Hand-packed using traditional methods with Spanish extra virgin olive oil.
✨ Crafted from pro-grade Stainless Steel in Tsubame-Sanjo, Japan.
✨ Designed to combine the long tapered profile of Japanese cooking chopsticks with the precision of plating tweezers.
✨ Created in collaboration with the SF-based design firm, Gestura, which partners with artisan manufacturers in Japan to create elegant, functional kitchen tools.
The term "Fishwife" dates back to the 16th century, and originally referred to the daughters or wives of fishermen who sold fish at the market. The term gradually evolved into gendered insult for women who were brash, foul-mouthed, and brassy.
We relate.
Fishwife is a new female-founded and led food company aiming to make ethically-sourced, premium, and delicious tinned seafood a staple in every cupboard.
We source from responsibly managed fisheries and aquaculture farms to bring the vibrance of conservas culture to the North American table.