---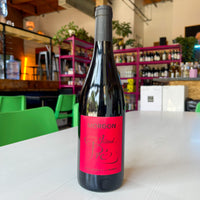 Chateau de Grande Pre Morgon 2020
Winemaker: Romain Zordan
Appellation: Morgon, Beaujolais, France
Grape Variety: Gamay
In Grande Pré, tucked off the main road between Fleurie and Morgon, Romain Zordan is making some of the purest Gamay we've tasted.  Ask him what type of wine he likes to make and he'll tell you it's the type of wine he likes to drink. Romain is an ox of a man, so you'd be forgiven for expecting his wines to be burly, structured, 'masculine' even, however his signature is mouthfilling, but refreshing and precise fruit with very little sulphur…the French term 'digestif' describes them perfectly.
Having inherited half the family Domaine (the other half falling into the talented hands of his cousin, Yann Bertrand, Romain is fanatical about the quality and freshness of his fruit so much so that, with the Bertrands next door with whom he shares a cellar and tasting room, they have invested in a walk-in cooling unit, where the grapes are kept cool before he's ready to start fermentation.  Just like his inspiration in Fleurie, Jean Louis-Dutraive, Romain is a fermentation ninja.
For his Fleurie Spaciale, Romain uses a long, cool carbonic maceration for 30 days at 15 degrees in a spherical fibreglass tank known as a 'Sputnik' (hence 'Spaciale') to produces an exceptionally pure, free-run juice that is then left to mature gently for 8 months in well used 600 litre demi-muids from his friend and mentor JJ Ganevat. Marginal gains maybe, but the results are absolutely thrilling.