---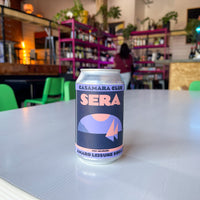 Casamara Club Sera The Afterglow Spritz Leisure Soda
Sera is our soothing, cinnamon-infused take on the classic Italian spritz. Notes of lavender, strawberry candy, and fruit tart acidity make this one perfect for settling down with fresh fruit, ice cream, or old movies.
Ingredients: Sparkling Water, Lemon Juice, Orange Blossom Honey, Extracts of Grapefruit, Cinnamon Bark, Rhubarb Root, Italian Chinotto, Allspice Berry, and Aniseed, Mediterranean Sea Salt.

We source real ingredients, and blend them by hand to create delicious, transportive flavors that take us back to places we've been, remind us of meals we've had, and feel like moments we've enjoyed.
There are no industrialized "natural flavors" or alternative sweeteners in any of our drinks – no stevia, no monkfruit, and no aspartame or erythritol. Even though these ingredients are safe and cheap, we don't use them because they can often stand in the way of great flavor – they don't surprise and delight us the way real ingredients do. What excites us as beverage makers is the spark of inspiration, the deep research, and the long journey to source dozens of ingredients from around the world.
We work and rework our recipes for months – carefully adjusting the balance of ingredients, one drop at a time – until they start to meld and twist, taking on a life of their own. We search for new, unique flavors and aromas at the border between the familiar and the extraordinary.
Only then do we know we've found something special enough to share. We do this because we want to make it easier to choose non-alcoholic drinks. We hope you enjoy.
Cheers,
Jason & Erica