---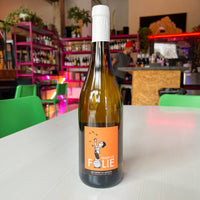 Domaine du Mortier Chenin Blanc
Winemaker:  Cyril and Fabien Boisard
Appellation: Loire Valley, France
Grape Varieties: Chenin Blanc
Vinification Notes: Grapes are hand-harvested in several phases due to the uneven ripening of Chenin. Grapes are destemmed and direct pressed to barrel for a long slow fermentation in the cellar. The wine rests in barrel without racking for about 1 year and is bottled unfined, unfiltered, and with a small addition of sulfur. 
The Mortier guys make multiple cuvées that reflect their diversity of terroirs: there's the supple and silky Les Sables, named after the sandy soils and made to be enjoyed while young; Les Graviers from a single, 30-year-old plot on gravel that can age beautifully; Les Pins, the only Bourgueil AOC that the Boisards make, which is pleasantly balanced between roundness and minerality thanks to its chalky terroir and old vines that the brothers are slowly rehabilitating. And finally, there's Dionysos, the estate's top cuvée from selected oldest plots (50yo +) on the locally specific tuffeau (chalk) terroir aged for about a year in barrel, which is as flamboyant and epicurean as its name suggests.
The remaining 6 hectares represent an experimental project of agroforestry in a nearby village called Brain sur Allonnes – hence the pun Brain de Folie. Un brin de folie is a French expression meaning "a touch of madness", but what the brothers are doing there is way more beautiful than crazy: these young plots enjoy enormous biodiversity brought by the myriad of bushes and trees planted among and around the vines and the fauna that thrives in them. This project is a continuation of the brothers' belief in a naturally balanced ecosystem that allows the vines to defend themselves against diseases and pests; when needed, they use organic and biodynamic preparations only (the domaine is certified organic since 1999 and practicing biodynamics since 2007). The result is a range of pleasurable wines that burst with life, made with locally typical grapes like Sauvignon, Chenin, Grolleau or, of course, Cabernet Franc.
All the wines are made in a similar way: harvested manually in small crates, gently sorted and (depending on the cuvée) destemmed, then fermented spontaneously and slowly in the naturally low temperature of their cellar. No magic powders used, of course; the only addition is a little bit of mineral sulfur at bottling if needed.