---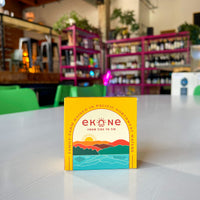 Ekone Lemon Pepper Smoked Oysters
Grown on our farms in willapa bay, located on the coast of washington state, they are grown using the long-line method to promote the highest quality oyster, and ensure they are always free of sand and grit. They are harvested fresh then brought to our Ekone cannery in bay center, wa, where the oysters are steamed and opened, then brined in small batches. The brined oysters are then placed meticulously on stainless steel racks and smoked using maple chips. We added a subtle lemon pepper spice blend to the original flavor. Perfect for those who like a little tang!

Contains: Shellfish Pacific Oysters, Organic Sunflower Oil, Salt, Organic Sugar, Organic Garlic Powder, Organic Onion Powder, Lemon Pepper Mix (Spices, Salt, Cane Sugar, Garlic, Onion, Lemon Peel, *Citric Acid, Orange Peel, Extractives of Turmeric, Silicon Dioxide, Parsley), Natural Smoke *Citric Acid used as a flavor enhancement only.
Part of the Taylor Shellfish Farms family. Located on the shores of Willapa Bay in Washington State, Ekone is proud to be able to bring you the finest quality tinned seafood from tide to tin. The Taylor Shellfish family legacy, handed down over five generations, is well known as a trusted shellfish purveyor in Washington State. Willapa Bay is a large estuary in the southwest corner of Washington. It is considered the cleanest and most productive coastal ecosystem remaining in the continental United States. This is home to where our oysters are farmed and harvested daily. The Ekone lineup has grown to seven unique tinned seafood offerings including locally farmed oysters and mussels, line-caught albacore tuna, wild caught octopus, and wild scallops. When you pop a tin of Ekone your experience begins!