---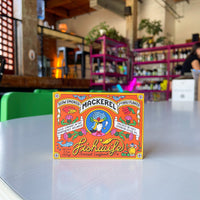 Fishwife Slow Smoked Mackerel with Chili Flakes
Say hello to our Slow Smoked Mackerel—caramelized and crispy on the outside, buttery and tender on the inside. Our Slow Smoked Mackerel is: ✨ Hand-cut, sweet cured, and slowly smoked over natural wood, then hand-packed and infused in-house with crushed chilis and garlic for a savory, rich flavor with a bite of heat. ✨ Rich in Protein and Vitamin-D, contains 2471mg of Omega-3's per serving. ✨ Responsibly wild-caught by family-owned boats in the Northeast Atlantic during the winter months when mackerel quality is at its peak.
Ingredients: Contains: Fish Mackerel (Fish), Olive Oil, Demerara Sugar, Salt, Crushed Chili, Garlic
The term "Fishwife" dates back to the 16th century, and originally referred to the daughters or wives of fishermen who sold fish at the market. The term gradually evolved into gendered insult for women who were brash, foul-mouthed, and brassy.
We relate.
Fishwife is a new female-founded and led food company aiming to make ethically-sourced, premium, and delicious tinned seafood a staple in every cupboard.
We source from responsibly managed fisheries and aquaculture farms to bring the vibrance of conservas culture to the North American table.