---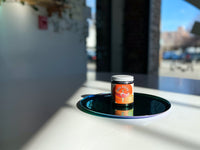 Masienda Chipotle + Coffee + Peanut Pura Macha
Affectionately known as The Red Eye around Masienda HQ, CHIPOTLE + COFFEE + PEANUT Pura Macha is a fiery blend of chipotle, morita and pasilla chiles with added crunch of peanut and the X-factor of coffee. It's the ideal companion to dishes like grilled meats, extra cheesy quesadillas, sweet potatoes, carrots and wood-fired mushrooms. Heat level: HIGH.
Ever since corn (maize, maíz, zea mays) was domesticated by indigenous peoples of Mesoamerica 10,000 years ago, it has been the bedrock of civilization in the Americas.
So why, we asked ourselves not so long ago, is it so hard to find a good tortilla — flavorful, aromatic and full of nutrients — in the United States in the 21st century? This quandary led us to the Central Valleys of Oaxaca, the heartland of Mexico's maíz criollo (heirloom corn) production.
With every tortilla (and tamal and tlayuda and tetela) we tasted, the connection became clear: genetic diversity and regenerative farming practices produced the most delicious flavor and texture. They also happened to be better for the community and the planet. We slowly built our version of a masa value chain in order to not only share the richness of heirloom corn with the world but also help preserve one of the world's most important crops.
Today, we proudly partner with hundreds of traditional farmers to grow and source not only heirloom corn, but also single origin ingredients like chiles and spices, beans and coffee. We work with craftspeople to design and produce indispensable tools like molcajetes, Molinitos, comales and tortilla presses, as well as beautiful and lasting home goods like baskets, glassware and ceramics. We work with restaurants and tortillerias who are part of the movement we call Third Wave Masa. At Masienda, we're on a mission to connect more people to the culinary and cultural richness of the Mexican kitchen. Bienvenidos.