---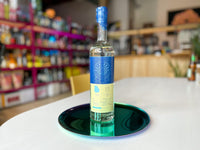 Sotoleros Tavi Lechuguilla Lot 9
About this destilado de agave

Sotoleros Lechuguilla (Blue Label) from Tavi Torres is made from 100% agave in Batopilas, Chihuahua. Tavi's family has been making agave spirits for 4 generations. The name Lechuguilla is a local name for distilled agave in this region. This can be a bit confusing as the same name is used for a specific type of agave in other communities in Mexico.
Tavi's Lechuguilla is typically be made with Agave shrevei subspecies magna, Agave bovicornuta, or Agave polianthiflora. Tavi collects wild agaves and cooks them in an underground over using oak firewood. He mills the cooked plants with a mallet and then ferments the juice and fibers in stone vats. Next, Tavi distills in a stainless steel pot still with a wooden top. He adjusts the final distillate with spring water from the region. The flavor and profile of Tavi's Lechuguilla has hints of fresh peppers, vanilla, and fresh herbs. His micro batches range between 60 and 120 liters each.
Sotoleros
Sotoleros is a collection of traditional distillates from northern Mexico, which seeks to represent the tradition, art and culture of the region. Products from this brand began appearing on shelves in early 2021. Sotoleros has a connection with the legendary brand Clande Sotol – the colors on the bottle labels follow a similar pattern too. However, Soloteros is not a "rebrand" and the exact history between the two brands is unknown.