---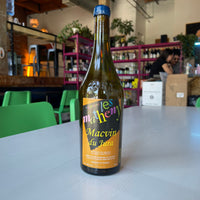 Les Matheny Macvin du Jura
Winemaker: Elise and Emeric Foléat
Appellation: Arbois, Jura, France
Grape Varieties: Trousseau 
To taste Emeric's brandy is to confront one of the wildest and most potent homemade concoctions in any cellar in the Rosenthal family of growers. According to local tradition, he blends this heady elixir with twice the volume of unfermented grape must—mostly Chardonnay—to create his Macvin du Jura, which throws politeness out the window and offers the imbiber a juicy, flagrant, undeniably delicious version of the recipe.
Another example of the long tradition of wine and spirits in France, and another example that there is more to libation from the grape than wine. Macvin de Jura is the AOC for the unique Macvin "wine" produced in the Jura region of eastern France. I use quotations because it can hardly be called wine as we know it. The juice and must of Savagnin grapes are reduced in half by boiling, and the resulting liquid is then fortified with brandy. Once the "wine" reaches 16% alcohol by volume it is placed in oak casks to age for six years. There is no fermentation process. The end result is a Vin doux Naturel that is rich and unctuous with a heavy amber color and aromas and flavors of orange zest, quince, prunes and other dried fruits.

The process is thought to have been first used by the nuns of Château Chalon over a millenia ago, though there is little evidence to support this. Either way, this rarity has been in existence since at least the 14th century though it did not receive AOC status until 1991.
Twenty years or so ago, when we first crossed the threshold of Jacques Puffeney's cellar door, there was nary a true Jura wine present in the US market. The oxidative whites and perplexing reds produced from the unheard of Trousseau and Poulsard varieties were mere curiosities at the time, rejected often for their strikingly non-commercial qualities. We persevered, gradually winning converts to the Puffeney wines and adding, over the years, other producers from different corners of the Jura who were, and remain, just as dedicated as Puffeney to producing the typical, traditional wines of the Jura. As our list of Jura-based producers and appellations has grown, so has the market for these enchanting wines, a fascinating and ultimately rewarding result that makes a strong case for the growing intelligence and sophistication of the US market. The 'jazz' of the Jura can't be taught; it must be absorbed through generations of exposure to the habits of a long and challenging tradition.
We continue our search for that sort of truth in the Jura and have had the good fortune of stumbling upon growers who epitomize all that we treasure here. In 2018, we add to our portfolio, proudly the deepest of anyone working the region, a domaine of impeccable class: Les Matheny, the creation of Elise and Emeric Foléat.
Emeric Foléat reached out to us early last fall, as he and his wife Elise were taking the first steps in seeking broader representation for their fledgling winery, Les Matheny. Emeric was quite familiar with our work, for he had spent eight years working for Jacques Puffeney—a resumé detail that all but forced us to pay the young couple a visit during our October circuit, at the end of a particularly strenuous day. After so many years in the business and so many visits, one can judge fairly quickly whether a potential new grower holds promise—and Les Matheny glowed with it. From Elise and Emeric's warm, unforced demeanor, to their winery filled with weathered wooden casks and absent of shiny technology, to the very smell of it all—great Jura cellars harbor a salty, yeasty, tangy air rife with the scents of wine growing and changing—we were primed for a meaningful encounter. And boy, did we ever receive one…
Both of them born and bred in the Jura, Elise and Emeric began Les Matheny—playfully named after their tiny home village of Mathenay—in 2007, and their holdings today encompass three and a half hectares of vines spread among Arbois, Montigny-les-Arsures, and Poligny. In the rustic old farmhouse they converted into a winery, thoughtful experimentation rooted in local tradition is their operative philosophy. Giving concession neither to easy marketability nor to the notion of a "product line," the Foléats take each harvest as it comes, vinifying and aging certain parcels separately if the notion strikes them, keeping a cask or two under voile for an extra-long time if the underlying material proves worthy, and topping up their barrels occasionally, partially, and based purely on taste and instinct. While both enologist and marketer alike may consider Les Matheny a baffling operation, those who value character in wine will find a deep well of authenticity and beauty here. These are wines free of shackles—whites of visceral intensity, layered and nuanced, yet simultaneously tough and bare-knuckled; brazenly structured reds that scoff at the dainty, almost apologetic extraction common for such thin-skinned varieties; wines of immense aromatic range that are unafraid to stare volatile acidity in the face and emerge victorious. (In a particularly moving anecdote, Emeric recounted monitoring a fermentation at Puffeney's side; as the temperature of the tank climbed ever higher and young Emeric began to panic, the always-taciturn Jacques consoled him: "Don't worry; it's almost night. Things will cool down. Everything will turn out fine.") We simply could not say "no" to wines—or people—of such engaging personality, uncompromising realness, and aesthetic satisfaction, and we eagerly await sharing our spoils with those among you wise enough to act on the minuscule quantities to which we have access.