---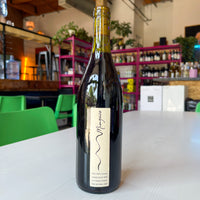 Mingaco Cinsault
Winemaker: Daniela De Pablo, Pablo Pedreros
Appellation: Checura, Chile
Grape Variety: Cinsault
100% Cinsault from Daniela and Pablo's own-rooted bush vines that are more than 50 years old, planted on clay-granite soils that are rich with quartz. The site is at 300 meters altitude and faces west. The grapes were harvested by hand and destemmed, then fermented outside under an oak tree in an open-top fiberglass tank without temperature control. Maceration on the skins for the duration of fermentation: 11 days. After fermentation completed, the wine was pressed into 6-year-old American oak barrels in their adobe cellar to rest on its lees for 11 months. Bottled without fining, filtering or addition of sulfur.
Daniela De Pablo, Pablo Pedreros, and their children Luan and Mayra are the family behind Mingaco, a regenerative farm and winery in the village of Checura along the Itata river. They work with old vines of Moscatel (Muscat of Alexandria, to be specific), Cinsault, and País, some of the traditional varieties that have been present in Itata for many hundreds of years. These vines, planted 30-years-ago by Pablo, his father and his grandfather, were farmed traditionally until the 80s and 90s, when conventional (read, industrial) agriculture arrived in the Itata Valley. After watching the health of the vines decline, Pablo decided to move towards organic farming methods in 2010, and eventually moved further towards polyculture, regenerative agriculture and, in 2017, biodynamic treatments.

Daniela(who is from Concepción and has a background in Visual Arts) and Pablo bonded over their shared interest in regenerative agriculture, healthy foodways, and fermentation. Today, Pablo farms their vines and they work collaboratively in the cellar without additives, fermenting grapes (and making kefir, sourdough and vinegars) with native yeasts. Their dreams of regeneration for their home in the Itata valley go beyond grapes and wine: they are reforesting the valleys around their vineyards with indigenous plants, breaking out of grape monoculture with fruit tree cultivation, and hosting dinners that highlight local produce.