---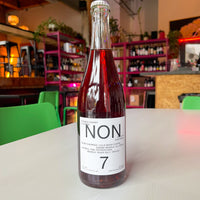 NON 7 Stewed Cherry & Coffee Non-Alcoholic Wine Alternative
NON-ALCOHOLIC, WINE ALTERNATIVE - SPARKLING VEGAN CERTIFIED.
GLUTEN-FREE. HALAL.
SERVE: 5 FL/OZ IN A WINE GLASS (42ºF-50ºF)
FOOD PAIRING: DARK CHOCOLATE (V), STUFFED MUSHROOMS (V, VG), CHARCUTERIE
OCCASION: LEAVES ON THE GROUND, CRISP EVENINGS, SWEATER WEATHER
CONTAINS CAFFEINE
PROFILE RICH DARK FRUITS, SPICED NOSE, UNDERTONES OF COFFEE

INGREDIENTS WATER, CHERRIES, VERJUS, COFFEE, CASCARA, PINK PEPPERCORNS, GARAM MASALA, ALLSPICE, SALT, NUTMEG, PRESERVATIVES 211, 220, 224
STORAGE STORE IN A COOL, DRY PLACE. REFRIGERATE AFTER OPENING AND CONSUME WITHIN 2-3 DAYS.
NOTES NATURAL SEDIMENT MAY OCCUR, AGITATE GENTLY BEFORE SERVING. THE USE OF NATURAL INGREDIENTS MAY RESULT IN SLIGHT VARIANCES IN COLOR AND PROFILE. 
TECHNIQUES & INGREDIENTS FROM FINE DINING KITCHENS ACROSS EUROPE LED NON'S FOUNDER, AARON, TO SEE THE NEED FOR THE PERFECT WINE ALTERNATIVE. SOMETHING FOR EVERYONE, AT EVERY OCCASION. AARON TROTMAN'S BACKGROUND IN PERSONAL CARE HAS LED TO NON'S PERFUMERY-BASED APPROACH - FLAVOUR BUILT FROM THE GROUND UP WITH KEY NOTES OF FLORAL, TANNIN, SALINITY & ACIDITY AND AN ICONIC BOLD, CLEAN LABEL DESIGN. THE INGREDIENTS ARE THE HIGHLIGHTED HEROES CREATING A LOOK & FEEL OFTEN SEEN IN LUXURY COSMETICS OR ON FINE DINING MENUS. INDIFFERENT TO THE RULES. IRREVERENT IN ATTITUDE. NON'S PROCESS HAS BEEN DEVELOPED THROUGH RESEARCH AND INNOVATION. OUR PURPOSE-BUILT NONLAB LOCATED IN MELBOURNE, BRING OUR INNOVATIONS TO LIFE. THIS IS WHERE WE ROAST, TOAST, STEW, SOUS VIDE, MACERATE, STEEP AND BREW INGREDIENTS TO BUILD LAYERS OF FLAVOUR AND DEPTH. 0.0% ABV GLUTEN FREE CERTIFIED VEGAN CERTIFIED HALAL MADE WITH THE NATURAL WORLD