---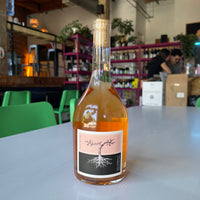 Poppelvej Dead Ohio Sky Rose
Winemaker: Uffe Deichmann
Appellation: South Australia, McLaren Vale, Australia
Grape Varieties: Mourvèdre
The Deichmann boys have a wide range of musical interests, and they all come to fruition at harvest.  During their first vintage the album that saw the most play was Tool's second album, Ænima.  Uffe's favorite song from this masterpiece is 'Jimmy' and thus this wine was born out of a love for that song and a lyric adorns its label.  The wine that saw the most playtime during harvest was Domaine Tempier rosé.  Thus it was fitting that the culmination of these two extraordinary things would converge in this Bandol-inspired rosé.  This wine comes from one of the first vineyards the boys have worked with, the Paeroa Vineyard in the Whites Valley of McLaren Vale.  Here the organically-farmed, 25-year-old, bushvine Mourvèdre sits on the top of the hillside with the ocean in the distance.
Winemaking in 2022 was the exact same as 2021. The fruit was hand-harvested and whole-bunch pressed immediately at the winery to a single black concrete egg.  Fermentation occurred without any additions and after five months of aging on the gross lees, the wine was bottled directly from tank and bottled without fining or filtration and with just a small addition of sulfur.
Let's start with the first glaring question: what the heck is poppelvej? This Danish word refers to the street where brothers Jens and Uffe Deichmann grew up. It translates literally to "the street of poplars."
This charming name is contrasted with the inky, self-deprecating humor that seems to underpin each label. If the Poppelvej wine lineup were a high school clique, they'd be the post-metal rock kids who stay up too late at night listening to Tool and reading Animal Farm. The names that adorn these wines are the likes of "Dead Ohio Sky," "Vicissitudes of Life," and "Zoonotic Spillover."  The influence of the Led Zepplin and Tool eras is undeniable, but it doesn't stop with the naming. Music is unquestionably the Deichmann brothers' muse in the cellar, as each vintage's wines becomes an embodiment of its harvest anthems.
Poppelvej's wines are as raw as the music that inspires them. The grapes come from carefully chosen sustainably farmed sites in McLaren Vale and Adelaide Hills. The wines are vinified without additions (besides very minimal sulfur in some instances) in a little shed in McLaren Vale, and bottling occurs without fining or filtration. Their lineup leans red, but they have an exciting Viognier and a whole-bunch pressed Mourvèdre rosé that ferments in a concrete egg. These are honest wines that beautifully and purposefully mirror the spunky whims of their creators. Established in 2016, Poppelvej is still in its nascent phase as a brand, and we are psyched to see what the future holds.