---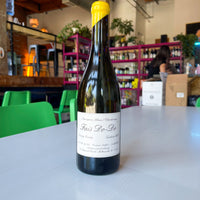 The Marigny St Reginald Parish Fais Do-Do
Winemaker: Andrew (Andy) Reginald Young
Appellation: Willamette Valley, Oregon
Grape Variety: Sauvignon Blanc, Chardonnay
Fais Do-Do: A lovely little double entendre that's used for both porch dance parties in South Louisiana, as well as rocking babies to sleep during said dance parties (dormir shorted down to do-do). It might also mean "dos à dos" depending on who you ask. Either way, this little sleeping giant was the only St. Reginald Parish wine produced in 2020, and is a personal all time favorite.
Fruit: Hidden site in the Tualatin Hills AVA. 50% Sauvignon Blanc fermented in new oak (one 500LT puncheon and one 228LT Burgundy) and 50% Chardonnay fermented in 1/3 new oak and 2/3 neutral oak 228LT Burgundy barrels.
Winemaking: Direct Press (whole cluster). No SO2 at crush. Fermentation via ambient yeasts on full lees. Racked to stainless for bottling after 11 months in barrel. Small SO2 addition added one month prior to bottling.
Our vineyards are managed with regenerative practices, which blend multiple farming ideologies, but can easily be defined as "organic +". We are invested in making not only the fruit and resulting wines as healthful and alive as possible, but also extending this way of being to the communities and land where our fruit is grown and farmed.

The only things that go into Marigny wines are hand harvested grapes, ambient yeast, and time. A very small amount of SO2 (sulfites) are added after fermentation to protect the wine as it moves from the winery to the bottle.
Natural wines. Low intervention wines. Grapes that are grown with intention on land that is loved. Taking those grapes and making real wine from them. Not always knowing how that wine will turn out. Striving to do the best we can for us, for you and for the communities that surround us. Pulling corks. Pouring glasses. Making new friends and keeping up with old ones. Finding the porch that's in our heart and sitting on it for a good, long while.
The Marigny is a small winery in the Willamette Valley that's focused on making what some folks call natural wine. Others call it "real wine" or low intervention wine. We like to think of them as Modern Table Wines. For us, these are wines without pretense, meant to be enjoyed anytime, anywhere. They aren't a facsimile of another (oftentimes more iconic) wine that's been gussied up to be something it's not with oak chips and flavor enhancers. The Marigny wines simply are what they are: well farmed grapes processed gently and thoughtfully, then bottled with a little SO2 to get them across state lines. So open one up wherever you find your table… which could be your porch, the park, a backyard party or wherever else you let good times roll.