---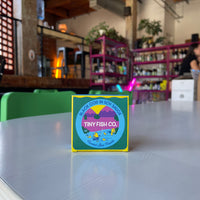 Tiny Fish Co. Black Cod in Sweet Soy Sauce
Hook & line caught black cod harvested in port orford, or is marinated with tamari, mirin, organic cane sugar & wasabi for a sweet & salty spin on your average can of fish. We partnered with port orford sustainable seafood to make this product happen. Did you know!? 1 in 100 sablefish aka black cod lack an enzyme that makes their meat hold together while cooking resulting in a molten mess of fish. if this happens to one of your tins, snap a pic, send it our way and we will be happy to send you a replacement. P.s. Did you know that black cod has more omega iii fatty acids than most species of salmon!
Ingredients: Pacific rockfish, organic cane sugar, gluten-free soy sauce (water, soybeans, salt, sugar, alcohol, vinegar, lactic acid), mirin (water, rice, koji [aspergillus oryzae], sea salt), horseradish, mustard, wasabi, salt, citric acid.
Tiny Fish co. is a woman-owned business with a goal to inspire the canned fish industry by sharing products that are sustainable, flavorful and tell the fish's story from water to tin. Chef Sara is focusing on the tiny fish from the Pacific Northwest and encouraging consumers to create environmentally conscious eating habits.

Sara Hauman is a self-proclaimed yogurt queen and tiny fish enthusiast, known for her appearance on Top Chef Portland in 2021, amassed skills at a range of restaurants—from San Francisco's Mister Jiu's to world recognized restaurant Asador Etxebarri in the Basque region of Spain. She employs a hands-on approach, preserving farm fresh ingredients, celebrating the Oregon coast's bounty, enjoying yogurt and salty fish and letting quality speak for itself. She holds Eater Young Guns and Zagat 30 Under 30 awards (2015) and was a James Beard Award Rising Star semi-finalist (2016 and 2017).