---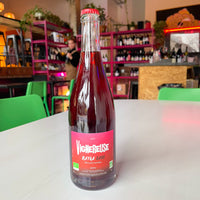 Vignereuse Mayga Dark Pet-Nat
 Winemaker: Marine Leys
Appellation: Gaillac, France
Grape Varieties: Gamay
Marine on this wine: "This cuvée is a one-off – as 2020 was a very hot and dry year, the grapes that would normally become Mayga Watt got very concentrated, dark-skinned and ripe, resulting in a slightly different expression of the site, with more cherry-like, "kir cerise" aromas, so I thought a different name would be more fitting for this particular vintage!"
Vineyard: 40-years-old vines on calcareous clay, farmed organically (certified) by Marine herself
Making of: the grapes are hand-harvested, sorted, and direct-pressed. The spontaneous fermentation starts in tanks and is bottled unfiltered, just before the fermentation is finished to finish as a pet-nat in the bottle. Disgorged, zero sulfur added.
Personality: rich and fruity red bubbles, with deep Amarena cherry both on the nose and the palate.
Vinification Method: Grapes are hand harvested, destemmed, and fermented in fiberglass tanks. The wine macerates on the skins for about 3 days. It is bottled unfiltered just before the fermentation is finished to finish as a pet nat rose in the bottle. Zero sulfur added.
We are absolutely thrilled to present the wines of Marine Leys, a talented and promising winemaker in the Tarn. Marine farms 5 hectares of hillside vines planted to Duras, Syrah, Braucol, Mauzac, Loin de l'oeil and Gamay.
Before starting the Vignereuse, she had worked for years behind the camera in film production across Europe, where she then moved to Canada, Ireland and eventually, Turkey. It was there that Marine found herself helping her employer plant a vineyard. She worked in the cellar and eventually handled the winemaking after studying in Beaune.
In 2012, Marine made her way to Gaillac to work and learn under the guidance of her friends, the legendary Plageoles family. In 2014, she found 5 hectares of vines in Andillac and the Vignereuse project was launched. Her first vintage delivers precise, flavorful and refined wines that speak both to the quality of the Gaillac as one of the most underrated AOP in France, and to her skills as a young winemaker.
-Jenny and François Selections