---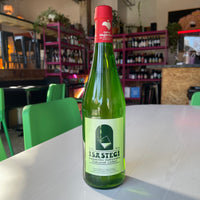 Isastegi Sagardo Naturala Natural Cider
Winemaker: Migel Mari Lasa
Appellation: Tolosa, Basque, Spain
Varieties: A blend of over a dozen native Basque apple varieties, farmed within a 15-kilometer radius of their cider house in Tolosa
Isastegi is a refreshing, dry natural cider from the verdant mountains of the Basque Country, high above the Bay of Biscay along Spain's rugged and green northern coast. Innovation meets 500 years of tradition, making the authentic San Sebastián cider experience portable.
Cider has been produced at the Isastegi farm since the 17th century as cider is an integral part of the Basque culture, where it is an everyday drink. Isastegi transcends the cider category, crafting a unique product born of the experience that comes from practices transmitted from generation to generation, paired with innovation. Isastegi cider is produced exclusively with organically-grown, native Basque apples farmed within a 15-kilometer radius of their cider house in Tolosa, in the countryside outside of San Sebastián. 
Isastegi is also a founding member of the Gorenak Society and Euskal Sagardoa, a new PDO for Basque natural cider. It was created in 2017 and allows the use of about 115 local apple varieties grown in the Basque Autonomous Community. It certifies both the quality and origin of the apples and cider. Isastegi has also recently gained organic certification by ENEEK (Basque Organic Regulatory Council) and does not add sulfites to their cider at any point during the process. 
Basque Sagardo is traditionally served cold, poured into a wide-mouth tumbler from an arm's length a little bit at a time to give the cider its signature creamy, effervescent mousse. 
Vinification – Each lot is fermented separately in stainless steel tanks with native yeasts. After fermentation, each component is tasted for quality, and the lots are blended together in kupelas (old, large oak cider barrels) for several months. Isastegi cider is bottled fresh from barrel without fining or filtration before each shipment.