---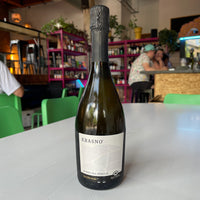 Krasno Sparkling Ribolla Gialla
Winemaker:
Appellation:
Grape Varieties: Ribolla Gialla
The wines from the Krasno line highlight the characteristics of our extraordinary winegrowing region. Fresh and fruity, they pair well with different dishes and can be found on the shelves of the finest restaurants. This line pays tribute to the village of Krasno, situated on higher grounds, where vineyards planted on steep slopes produce superb wines.
The white and red Krasno wines are characterized by their rich structure and fresh aromatic profile, which allow them to pair perfectly with a wide selection of dishes. The Gastronomy line also features a structured Ribolla gialla, matured in large oak barrels, and red wines, Merlot Krasno, a wine of deep red color with fruity aromas, Pinot Noir Krasno, a pleasantly soft and full-bodied wine with nicely expressed tannins, and Syrah Krasno with a more extravagant herbal-spicy character.
Krasno wines are born in the vineyards of the local hilly areas, planted on the steep and sunny terraces, so typical of the Krasno village. These vineyards are cultivated by our winegrowing families according to principles of sustainable production.
Grapes from the selected vineyards are harvested when they reach optimal ripeness and immediately brought to the winery, where after removing the grapes' stems, we cool and macerate the mash. Red varieties are macerated for 10 to 20 days, while white varieties only macerate for 6 to 12 hours. After maceration, the mash is pressed and left to mature in wooden barrels and stainless-steel vessels. We believe that the duration of contact between wine and wood should vary according to the nature of individual varieties. Our oenologist determines the optimal maturation period in wooden barrels and stainless-steel vessels for each variety and vintage.
Krasno white blend matures in stainless steel tanks, while Pinot noir spends the entire maturation process in 225 litre barriques. Ribolla gialla is left to mature for 12 months in large oak barrels. Also aging in large oak barrels are the red blend and Syrah, while half of Merlot matures in 225 barriques for 18 months and the other half in stainless steel tanks.