---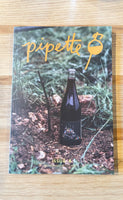 Pipette Issue 8
The 96-page issue contains: The most in-depth interview you've ever read with Austrian winemaker Christian Tschida; a reported article about how importers are incorporating transparency regarding labor ethics into their business models; a photo essay and "day at harvest" with Lammidia in Abruzzo; a discussion with Christian Binner of Alsace, looking back on 21 vintages; the story of Jordy and Julia Kay's quest to make sustainable winery pallet wrap; profiles on Jauma Wines (Australia), Koppitsch (Austria), Anders Frederik Steen (France); city guides to Sydney and Melbourne; a poem for the wine lover's mindset; and a personal essay about a cargo boat transporting natural wine into Copenhagen.

Pipette Magazine is an independent print magazine about natural wines, 3x/year, distributed globally. 
The magazine highlights small producers of natural wine, and the communities around them, through an edgy, contemporary perspective. We publish top quality, original journalism alongside unique illustration and photography. 
EDITOR & PUBLISHER
Rachel Signer has been writing about the culture of natural wine for several years. Her work appears in Vogue.com, Vice MUNCHIES, PUNCH, Wine Enthusiast, Wine & Spirits Magazine, Sprudge Wine, and elsewhere. After living in New York for many years, she is now based in Australia with frequent travel to Europe.