---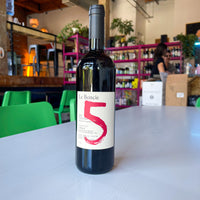 Podere le Boncie "Cinque" Rosso di Toscana
Winemaker: Giovanna Morganti
Appellation: Chianti Classico, Tuscany, Italy
Grape Varieties: Sangiovese (95%) and Colorino (5%)
The little brother/sister of "Le Trame" from Podere Le Boncie.  Originally this wine was sold only at the winery and was essentially created from fruit of vines younger and/or less well-positioned. Recently, Giovanna Morganti acquired access to a vineyard 3 kilometers up the road from their house in San Felice, a hamlet of Castelnuovo Berardenga but just outside the Chianti Classico zone. This new parcel is 1.3 hectares with very rocky limestone soils facing south-southwest in a windy area that is good for the health of the vines—Sangiovese with two rows of Canaiolo. (Her 3-1/2 hectares in the Chianti Classico zone are planted to Sangiovese with a bit of Mammalo, Colorino and Fogliatonda—first vintage bottled was 1990.)  With this additional fruit, the "Il Cinque" has taken on a more serious tone and, starting with the 2012 vintage, we have purchased a substantial portion of the production.

The wine's name "Cinque" recognizes the original composition of the wine, namely five grape types classic to the production of the finest Chianti Classico: principally Sangiovese with Colorino, Mammolo, Fogliatonda and Ciliegiolo completing the quintet. Recently, the wine is no longer composed strictly of the 5 grapes anymore, but Giovanna says the name also refers to the relative precociousness of the wine, thus a wine to "keep at hand" [5 fingers]. She also notes that grape vines have five leaves and flowers per bunch, that their house address is number 5, and that in Italian school you are graded one to ten, with five not quite passing, a bit of ironic understatement and a wink-of-the-eye modesty in reference to a wine that has assumed a rather majestic place amongst the elite wines of Tuscany. Cinque is perhaps less formidably structured than the Le Trame but it is no less noble, carrying its mantle of the particular terroir borne of the hills surrounding Castelnuovo Berardenga, wines of vigor and cut that chant the song of Sangiovese.. All parts of a good story to justify this quirky name of "5" or "Cinque".

The Cinque is fermented in steel and then spends one year in wood vats of varying sizes (5 to 30 hectoliters). It is then assembled in tank, left to rest for a bit, and finally bottled without fining or filtration.
Giovanna Morganti is quickly becoming recognized as one of the best of the new generation of Tuscan winemakers. Her small estate is a mere three hectares and her only wine is called "Le Trame" (the intrigues) signifying the wheeling and dealing required to purchase the land. Giovanna's father was a legendary oenologist who believed in Tuscan varietals long before the "flying consultants" identified this area as a profit center. Podere Le Boncie is situated in the hamlet of San Felice which itself is located a handful of minutes north of Castelnuovo Berardenga, in the southern tier of the Chianti Classico zone.
Giovanna studied oenology herself and went to work in the mid 1980s for San Felice wines in Castelnuovo Berardenga, near Siena, on a project to plant around 300 traditional Tuscan grape varietals collected from old vineyards. When Giovanna's father gave her a small farm with olive groves, called Le Boncie, she added a vineyard planted with her favorites from the experimental project – Sangiovese, obviously, but also Ciliegiolo, Colorino, Foglia tonda Mammolo and Prugnolo., The vineyard, planted to a very high density of 7000 vines per hectare and dedicated principally to Sangiovese (supplemented by a few rows of Fogliatonda and the others for blending), produces the definitive wine of the estate: "Le Trame". Vineyard work is conducted according to the general principles of the biodynamic movement. Harvesting is by hand. Fermentation occurs in traditional open-topped wooden tanks. The elevage is long and tranquil with an occasional racking implemented to aerate the wine. Aging occurs in mid-size barrels; the wine is then left to age in bottle for at least six months prior to release. Thus, the normal rhythm results in the wine's arrival in our cellars in New York not earlier than 30 months after harvest.