---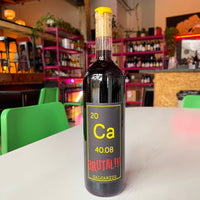 Calcarius Brutal!!!
Winemaker: Valentina Passalacqua
Appellation: Puglia, Italy
Grape Varieties: Nero di Troia
Super light Brutal!!! offering from Valentina/Calcarius made from the indigenous Nero di Troia grape.  Try this with a little chill, and enjoy a pretty chill time.
-Carlospicante
Calcarius is an avant-garde natural wine project from Valentina Passalacqua, focused on the kimmeridgian limestone soils of her childhood town, Arpicena, at the feet of the Gargano mountains in Puglia. Valentina worked in business in London 10 years ago. After the birth of daughter, Giulia, she felt a desire to return to her homeland and engage more with nature. This area is full of calcerous limestone in the soil, white rocks jutting out everywhere amongst the vines. Combined withe the salty air from the Adriatic sea, and Valentina's careful picking (much earlier than all of her neighbors of course) the wines of the Calcarius project are all light on their feet and very elegant. Although the wines do receive a small dose of sulfur for stability during travel, they taste like unsulfured natural wines to us, vibrant, and easy to drink. A true reflection of the elegant terroir of the region.
- Jenny & Francois