---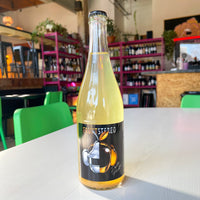 Fruktstereo Daft Frukt
Cidermakers: Karl Sjöström and Mikael Nypelius
Appellation: Scania, Sweden
Apple Varietals: Apples, Alexander L. Pears
4-48 hours maceration
Probably the most funky cider and only available in keg(draft) therefore the name. The pears were mostly left to ferment on flor just like sherry wines but only for a short time, that gives the cider a saltiness. The pears also bring a lacto feel to the cider that should appeal to all the sour beer lovers out there and bring a new wave of cider lovers.
It is our great pleasure to introduce arguably the GREATEST fruit based beverages ever put under a crown cap and in a key keg respectively.
Forget about "cider" as you know it and get your head ready for the release of the world's first and foremost Frukt Pet Nat (Fruit Pet Nat).  Frukt Pet Nat revolution is here!  And from where you ask??
Sweden , a most magical and enchanting Scandinavian country complete with some of the most beautiful, wild, and untouched orchard fruits, ranging from all types of eating apples, pears, plums, in addition to garden quince, grapes, sloe berries, sea buckthorn, and rhubarb.  All of which are the components of the stunning line up of tasty juice full of vibrancy, tongue-pleasing acidity, refreshingly drinkable sparklers. 
All of these imaginative sound-clashes end up with the most clever and ingenious label art from some of the most iconic albums of our time, thus each bottle release is an "album".
Frukstereo is a collaboration between Karl Sjöström & Mikael Nypelius, who both worked as sommeliers in fine dining in Sweden. The fruit they work with comes either from home gardens or abandoned orchards, or is from waste fruit from local farmers. Everything they make is fermented with natural yeast with zero additives. Their first commercial release was in 2016, so look for many new products to come from them in the future!