---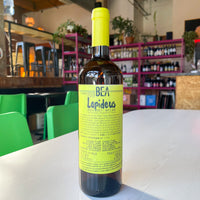 Paolo Bea Lapideus Umbria Bianco
Winemaker: Paolo Bea
Appellation: Pigge di Trevi, Umbria
Grape Varieties: Trebbiano Spoletino
"Lapideus" Umbria Bianco: Giampiero acquired a parcel of 80-year-old Trebbiano Spoletino in the town of Pigge di Trevi several years back, and thus with this 2014 we have an exciting new addition to the Bea lineup. Arising from a cooler microclimate than the "Arboreus" above, "Lapideus" spent a lengthy 35 days on it skins after pressing, followed by 210 additional days on the gross lees—a similar vinification to "Arboreus," yet one that yielded entirely different results. Though no less deeply amber in its appearance, "Lapideus" has a leaner, racier carriage than the broad-shouldered "Arboreus," with more filigree, a less overwhelmingly intense nose of apricots, cloves, and candied ginger. If "Arboreus" is a sea to swim in, "Lapideus" is a rocket to ride, emphasizing drive and lift over layered density. It is still a wine of impressive power, especially given its modest 12% alcohol, but the fruit is more direct, pure, and foregrounded. So often the so-called "orange wines" seem to stand alone, iconoclastic creations that defy fine-tuned peer-group comparisons and revel in their singular personalities. Even the discourse that surrounds them tends to treat them more as wines of technique than wines of terroir. Thus, it is fascinating to experience the same grape variety given roughly the same treatment by the same grower, whereby the differences in the wines are largely driven by the differences in their underlying places of origin.

References in the archives of Montefalco, the beautiful hill town in Umbria, document the presence of the Bea family in this locality as early as 1500. This tiny estate is the classic Italian fattoria, producing wine, raising farm animals for trade and home consumption and working the land to produce olives, fruits and vegetables. To this day, the Bea family raises and produces much of what they consume on a daily basis. Paolo Bea, the senior member of the family, is the guiding force behind the production of this series of intense and idiosyncratic wines. He is assisted by his two sons, Giuseppe, who farms the vineyards, and Giampiero, who assists in the vinification and is responsible for all commercial aspects of the winery.
The entire property encompasses 15 hectares: 5 of which are dedicated to the vineyards, 2 to olives, and the remainder to the fruits, vegetables and grains that are grown. Sagrantino is the predominant grape, covering 60% of the vineyard surface. The remaining 40% is planted to Sangiovese and Montepulciano, with a small parcel planted to several white varieties. The vineyards are cultivated organically, all grapes are harvested manually and all wines are bottled without fining or filtration.