---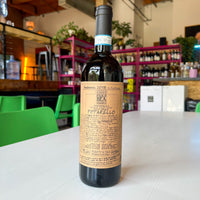 Paolo Bea Pipparello
Winemaker: Paolo Bea
Appellation: Montefalco, Umbria
Grape Varieties: 60% Sangiovese, 25% Montepulciano and 15% Sagrantino
The Pipparello vineyard is a hilltop site in Montefalco at 1300 feet above sea level. The soil is clay and gravel. The vines in the vineyard are a minimum of 20 years old. Harvest takes place normally during the middle of October. The ultimate wine is a blend of roughly 60% Sangiovese, 25% Montepulciano and 15% Sagrantino. The cuvaison extends for a period between 40 to 50 days. After the alcoholic fermentation this wine spends a year in stainless steel tanks and then two years in large oak barrels and is released after an additional year of bottle-aging.

References in the archives of Montefalco, the beautiful hill town in Umbria, document the presence of the Bea family in this locality as early as 1500. This tiny estate is the classic Italian fattoria, producing wine, raising farm animals for trade and home consumption and working the land to produce olives, fruits and vegetables. To this day, the Bea family raises and produces much of what they consume on a daily basis. Paolo Bea, the senior member of the family, is the guiding force behind the production of this series of intense and idiosyncratic wines. He is assisted by his two sons, Giuseppe, who farms the vineyards, and Giampiero, who assists in the vinification and is responsible for all commercial aspects of the winery.
The entire property encompasses 15 hectares: 5 of which are dedicated to the vineyards, 2 to olives, and the remainder to the fruits, vegetables and grains that are grown. Sagrantino is the predominant grape, covering 60% of the vineyard surface. The remaining 40% is planted to Sangiovese and Montepulciano, with a small parcel planted to several white varieties. The vineyards are cultivated organically, all grapes are harvested manually and all wines are bottled without fining or filtration.