---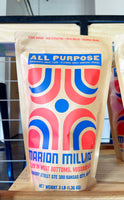 Marion Milling All Purpose Flour 3 lb bag
Our flavorful and nutritious flour is stone ground from high-quality local and regional heirloom grains, all sourced at a fair price from heartland farmers. Together, we're building a local grain economy and strengthening the bonds between farmer, miller, baker, and consumer.

Marion Milling was founded in 2020 by longtime baker and miller Will Berndt. We source locally and regionally grown grains to produce fresh flour using traditional stone milling techniques at our space in Kansas City's historic West Bottoms.
Why Our Flour Is Different
Midwestern Roots:
Our flour comes from grain produced by heartland farms and farmers. We know where the wheat in each bag of flour came from and who grew it, and we're committed to paying our grain producers a fair price, multiple times the commodity market. Because we pay fairly, we can collaborate with our partner farmers to bring you unique and heirloom varieties of grains.
Tradition:
Stone milling is the historical, traditional way to mill flour. Unlike commercial roller milling techniques favored by most large operations, stone milling retains a high percentage of the original wheat berry, resulting in a more nutritious flour that brings the unique flavor of the grain to the forefront. The result? Better baked goods.
Freshness:
We mill our local, identity-preserved flour to order for bakeries and consumers, so every bag of flour we sell is fresh-milled. Our quality, high-extraction flour is made the week of delivery and doesn't spend months in a warehouse.
Our Mills
We use two 40" New American stone mills. Each mill was custom built by Andrew Heyn and his team in central Vermont using locally quarried granite. These mills allow us to produce nutritious, delicious, high-performing flour by maintaining a low temperature during the milling process and a consistent particle size of the finished flour. Our high-extraction flours are sifted through a single screen removing only the largest bran flakes.